CINCH Workout Report – The Climb Closer (March 27, 2021)
The Play is called "Climb Closer" – 90sec of standing near all-out effort, yet controlled in your zones to be able to continue and finish strong after creating a gap of topping a climb.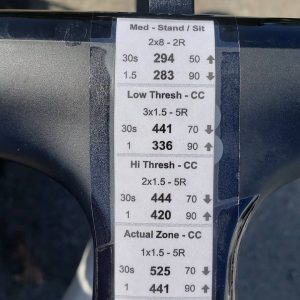 Today I practiced this play designed by Tom Danielson @tomdanielson with higher zones than ever before.
After the first one, I wasn't confident I could do these numbers, but I refocused on the second one and crushed it.
Game on from there! 3 more to go with increasing zones. Whew! RFCC teammate Jay Dunbar @badticker was VERY helpful in scoring my effort from behind. I went from a 3 (out of 20) to a 7 (out of 11). I'll be honest, his scoring system is strange and he was talking a lot about his vaccination shot.
I digress… These are super hard efforts guys! Most people don't practice these kinds of plays. But we do at CINCH Cycling @cinchcyclingcoaching – every damn day.
Give me a shout and I'll show you more plays of the pro peloton. Or, learn more at my Coaching Page