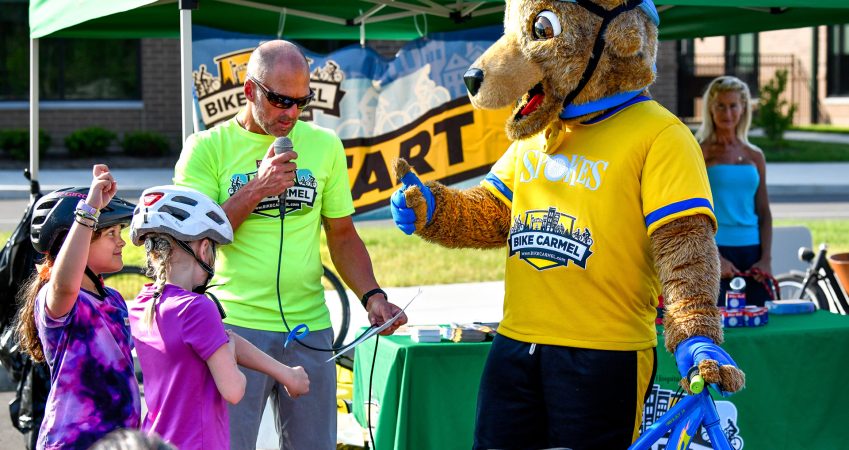 WE BUILD COMMUNITY
We believe in cycling of all styles. Transportation, recreation, racing and freedom. Rollfast works to make cycling more viable in our surrounding communities and improve safety and mobility for cyclists. We educate, promote and partner with community leaders.
In 2016 we partnered with the City of Carmel to create Bike Carmel. An initiative to increase bicycling and promote the bicycle as a mode of transportation in our city.
Rollfast hosts a series of rides through the summer for both children and adults. In September, we hold the annual Roundabout Ride with 25 and 50 mile routes.
Learn2Ride Program
Family Fun Rides
Slow Roll Dinner Cruises
Roundabout Ride
---
Learn2Ride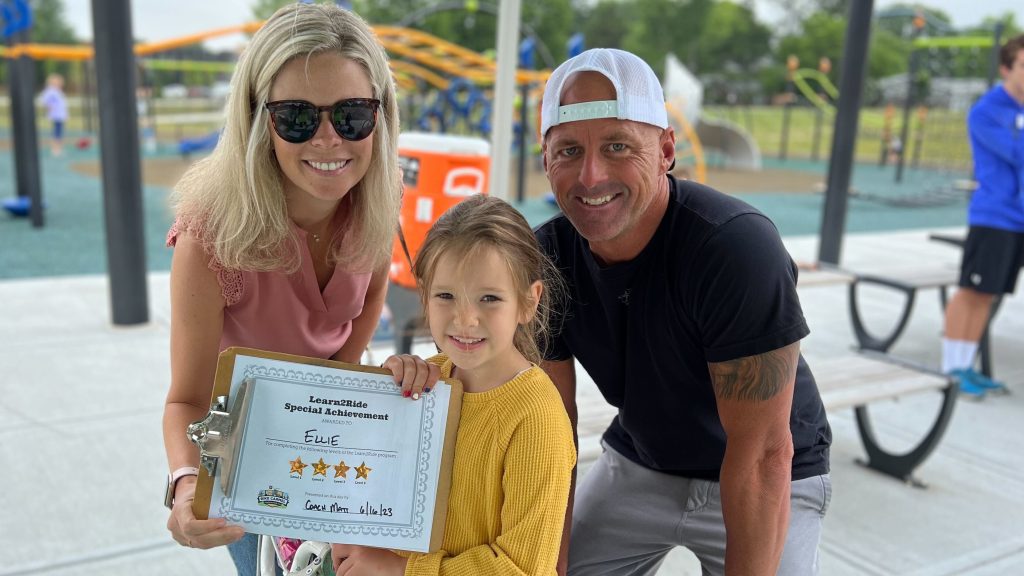 The Learn 2 Ride Workshop is a proven program designed to teach children how to ride a bike without training wheels. Led by experienced instructors, the workshop follows a 4-step process that focuses on bike setup, leaning, gliding, and finding the pedals. Participants gain balance, coordination, and confidence while mastering the art of riding on two wheels. This transformative program empowers children with lifelong cycling skills and a sense of independence.
---
Family Fun Ride
Bring the whole family out for a fun Saturday morning! The action starts first thing in the Bike Rodeo with ramps, rumble strips, slalom cones, and a rainbow finish tunnel!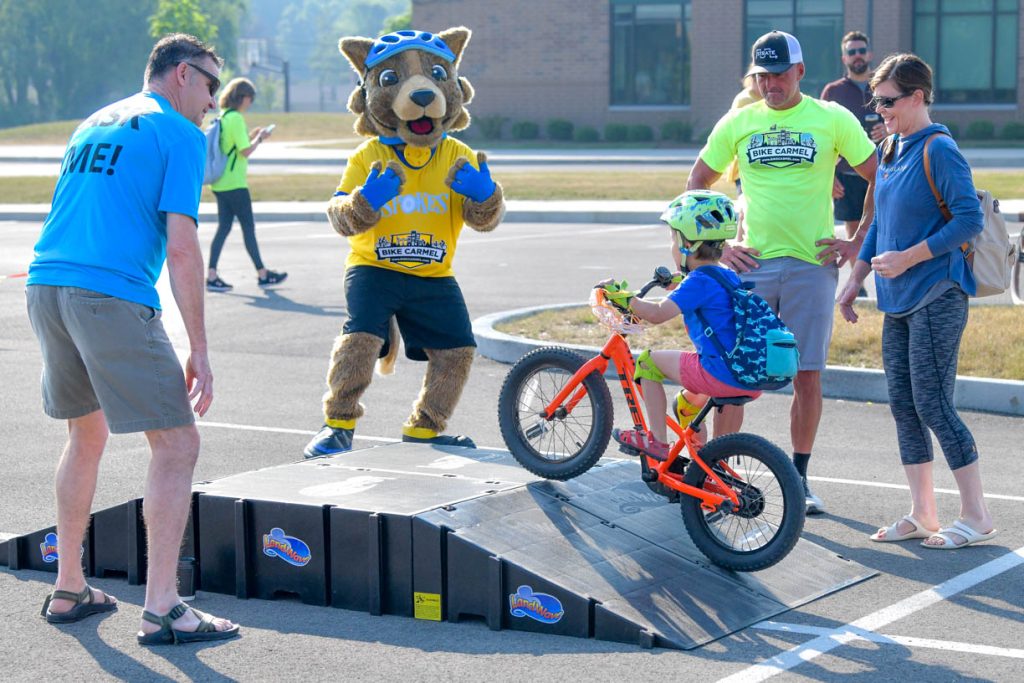 After you check out the rodeo, visit with Spokes, the Bike Carmel mascot. Get a caricature drawn of you and your family. Meet Casey the fire rescue dog and jump in one of Carmel's fire trucks with Chief Moriarty!
If that isn't enough action, join Coach Matt on our neighborhood ride to cap off the day!
The Family Fun Ride is a free event happening all summer! Register below.
---
Slow Roll Dinner Cruise
Looking for a fun time with ADULTS? Join us for the Slow Roll Dinner Cruise. We'll meet at Midtown Plaza. We will lead the group at a casual pace on a ride for about 60 minutes. We'll end back at Midtown where you can enjoy eating at one of the many restaurants at Midtown Plaza.

What's the pace?
This is called a Slow Roll because we keep it casual. We want everybody to be comfortable at a pace that lets us finish feeling good! We will stay together as a group and won't leave anybody behind. Don't worry about the distance of the ride, it is just an hour. 🙂

Start Time
Check in is at 5:30pm and we will roll out promptly at 6pm.
Age Requirement
We'll be riding on roads and riders must be 18 years old to join us.
---
Roundabout Ride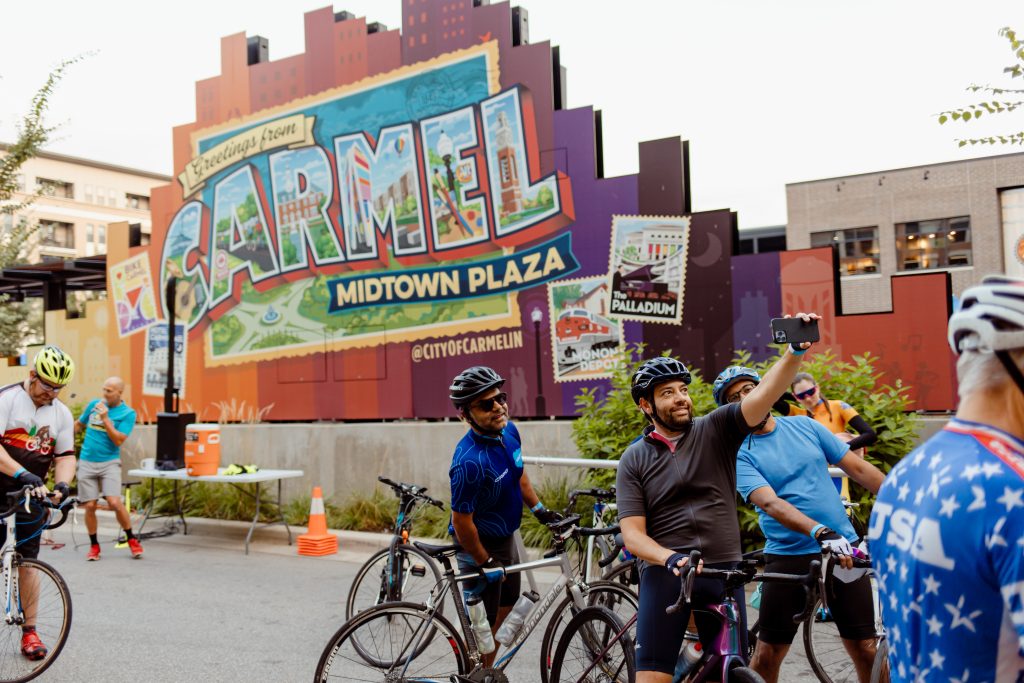 The City of Carmel and Bike Carmel will be hosting the annual Roundabout Ride on Saturday, September 17 at 8 a.m., sponsored by IU North Hospital. This fun event will have two distance options, 25 miles and 50 miles; the costs will be $45 for the 25-mile option and $65 for the 50-mile option. $5 of each registration will be donated to the Rollfast Foundation for mental health.
The routes will be capped at 100 riders for the 25-mile ride and 50 for the 50-mile ride so register as soon as possible as these events will fill up quickly.
The Roundabout Ride will begin and end in Midtown Plaza where a post-ride meal will be provided with music and a complimentary beer from Sun King Brewing Company. The roads will be open to vehicle traffic for the duration of the ride and the Carmel Police Department will be stationed at strategic points along the route to manage traffic and safety.
If you would like to volunteer for the event, please sign-up here: https://city-of-carmel1.volunteerlocal.com/volunteer/?id=66911
Schedule
7AM
FREE Parking available
Check-in (Start / Finish area)
7:45AM
Announcements and instructions
National Anthem
8AM
Roundabout Ride begins!
9AM
Finish area open with swag and finisher awards
10AM
Food and drinks available from
Social Cantina and Sun King Brewery!
Live music with Sam King
1PM
Course officially closed
Route Information
Things to do in Carmel