Tucson Arizona Spring Camp, Ride Report
I just returned to snowy Indiana from another great trip out to Tucson Arizona with the Rollfast Cycling Club. This year we had representation from Florida, Texas, Illinois, Indiana, Colorado and brought two new members to their first ever RFCC camp!
Upon arrival, we wanted to stretch the legs and did a quick ride along part of a 130 mile bike path called "The Loop". The section we rode was the Rillito River Park bike path on the north side of Tucson.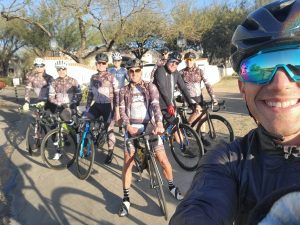 For our first official day of camp, we explored Saguaro National Park. This is a spectacular 8-mile circuit on the east side of Tucson that winds through a cactus forest to the base of the Rincon Mountains. After a few laps in the park (one was quite heated!) we rode south to Pistol Hill.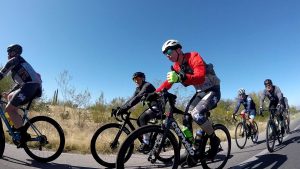 Day 2 was the queen stage on our trip with a climb up Mt. Lemmon to Windy Point. I've done this climb about a dozen times. I've gone past Windy Point to the very top and one year we even climbed the entire thing two times back-to-back! But February 4, 2022 will go down as the most epic Mt. Lemmon day ever! First it was really windy. Gusts were upwards of 35mph with a steady push out of the East at 20mph. Climbing into the headwind was brutal. At the top we regrouped for a photo and quickly filled bottles with a nice stash that some of the guys drove up earlier that morning. It was cold at the top. 30 degrees and high wind. We talked a little about being safe on the descent and being aware of cold hands, bike control, cross wind gusts… and we were all scared as shit. We joked with a tourist to take us down in their Ford F-250 pickup truck. We all made it safely to the bottom at our own pace. The ride home we were all smiling ear to ear. Coasting on a bike at 40mph with nothing but wind and gravity pushing you does that!
Our last day of riding, we decided to try a route that was new to us. Gates Pass. It's a short climb, but beautiful and really nice pavement. We grabbed a group photo at the top of this little explosive climb and then headed back down for a stop at a great coffee shop.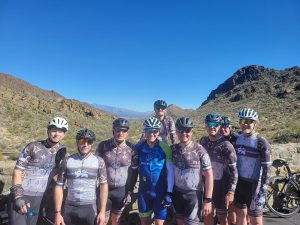 Each day after our ride, we had great food at different restaurants. Josh Drake aka "Julie the Cruise Director" was on the mark planning each meal and making quick work of navigation and reservations. Kudos Josh!
All of the riding on our trip was great. All of the food was really good. But the reason I love these camps is making new memories. Some of these guys I've been cycling with for 15 years. Some I just met this week. I love them all the same. The bonds that form at our camps are special. We take care of each other. We encourage each other. We teach each other. And yeah, we have quite a few laughs too.
We have a few more Spring Camps planned for 2022. Greenville South Carolina and Austin Texas are coming up quick. If you would like to attend a RFCC camp, you need to be a member, but that's the easy part. Log on at www.joinrollfast.com or check out the info below and decide.
We'd love to ride with you. Be well!
~Matt Tanner
ps – full photo album at: https://rollfast.smugmug.com/2022/Tucson-Arizona-Spring-Camp/