Bike Carmel Kicks Off the 2018 Season!
For Immediate Release:
May 14, 2018
Contact: Matt Tanner
matt@rollfastcyling.com
ROLLFAST AND BIKE CARMEL PARTNER FOR A SUCCESSFUL FAMILY FUN RIDE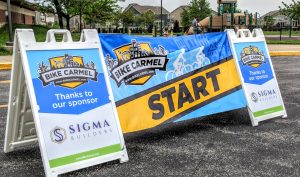 CARMEL INDIANA – Saturday Bike Carmel hosted its first Family Fun Ride for the 2018 season. The event was held at Prairie Trace Elementary School. Over 100 riders registered for the FREE ride and the rain held off for a perfect event.
Sponsors and vendors were on hand at the event. Vendors included:
Sigma Builders, LLC
Pedego Electric Bikes of Carmel
CycleBar at Trader's Point
Oberweis
Flat Rock River YMCA Camp
Rollfast
The 4 mile course was designed by Rollfast, a long time bicycle event organizer. The course utilized Carmel's pedestrian paths and Hamilton County's River Road Park. At the halfway mark a rest stop greeted the riders before starting their journey back to the school.
Photos from the ride have been posted on Facebook and our website at: https://rollfast.us/roll-as-one/bike-carmel/

The next Family Fun Ride by Bike Carmel will take place June 9th at Woodbrook Elementary School. Registration is FREE and now open!