Live and Learn
6-12-24 Hour World Time Trial Championships / Race Report
Many people have asked me how my recent race in Borrego Springs California went so I thought I'd take a few moments and do a recap. For those that wonder what I'm talking about, I was urged by my coach Tom Danielson and teammate Stephen Strayer to compete in the 6-12-24 Hour World Time Trial Championships last month. The race is a part of the Race Across America series and draws some of the craziest ultra distance athletes I've ever been around.
Much like life, bike racing is a continuous learning experience. You prepare, you compete, you mess up, you learn, you get better. That's the summary of my day in one sentence.
Preparation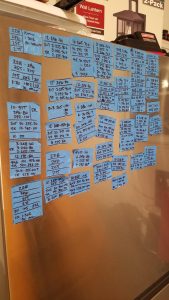 My preparation started April 28 with a concept Tom had developed called the "Floors". It is a progressive workout where you raise the minimum watts in 30 to 1 hour increments. You start out in your endurance zones and all seems easy… Until that last increment! Woof… After 2-3 of these workouts, I coined a new term. "Respect the floors." It means that you have to stay close to the floor on each section or you'll suffer in the end with no glycogen in your body at a higher level.
It really got me in shape for some other events I had marked on the calendar. The RAIN ride was a success. Even with a flat tire at 10 miles to go I finished 7th after pulling the group through the majority of the middle section of the ride. At the Rollfast Gran Fondo, we set a mission to pull on the front to mile 80ish and control the pace so as many people as possible could achieve Sub4. I rode my low threshold in the top 4 positions with about 3hrs of sleep for a week until mile 60. It was brutal, but a success.
In September we got really focused on Worlds. I usually put my workout on a little piece of tape on my bars so I can focus on each interval. I started posting these on my fridge as motivation. And it was working. I made some tweaks to my TT bike and got really comfortable riding for 4hrs at a time. The floors were getting easier and Tom was raising my zones. My speed on the TT was getting faster too as I became more efficient in my lower zones.
The week before the race Tom had me do a race simulation at 4 hours. The protocol was similar to my floors workouts, only it was focused on putting everything together and taking as much speed as possible while using minimal energy. I CRUSHED IT. Averaging 23.5 mph, I took 91 miles on open roads in 3:53:07. My normalized power was 247w and I felt amazing the entire time. Confidence was high.
Competition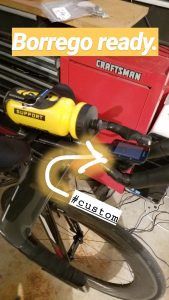 As the race approached, I put all the effort into recovery and my bike set up. Making sure every detail was optimized for aero, nutrition and reliability. I used Normatec boots for hours each day. I fueled my body. I cleared my mind and focused on how my performance would go. I was ready.
We flew out to San Diego a few days early and arrived at the resort in Borrego Springs. When we arrived, it was 93 degrees and there was a blackout across the entire town. Our resort didn't have power (or A/C). So, we settled in and I began building my bike in the dark. A few hours later the power came back on and we cranked up the air conditioner!
Now, I've been in the desert and I realize the temperature fluxes pretty drastically, but I never thought about the challenge a 24hr racer would have with these conditions. Luckily, I was competing in the 6hr event. In order to have all three races finish at the same time, my event would start at 11am just as the day was heating up. I had been hydrating for days in preparation of the heat. It would reach 100 degrees during my race.
I lined up in the first wave of 6hr racers with one of my fellow CINCH athletes and a friend Allison (Wattage Cottage). We all knuckled up and wished each other a good day and we were off!
Immediately off the line we were riding at 30mph. The officials followed us and began shouting "no drafting" and everybody pretended to try and not draft. It was somewhat comical. I decided to move to the front of the pack and not risk taking a penalty. On the front, I rode my pace. Low threshold and in control.
At about 6 miles into the race I was rolling strong. So strong I blew a right hand turn. Nick (my CINCH buddy) yelled "TANNER!!!" and luckily I heard him. I turned around and rode at 400w to catch back on to the lead group which was now 4 riders. Back in the group I decided to recover and regroup in a lower zone. The officials pulled back up and began yelling at us for not riding in the bike lane. I moved to the right and passed two riders.
Riding in 3rd position, we started up a long stretch of road that goes slightly uphill. I looked back and we had dropped everybody! The officials came back up and were yelling at us about drafting again. I was giving about 3 bike lengths and felt like I was giving more than the others. It didn't matter, they pulled me over and put me in the penalty! It felt like 5 minutes as I argued my position, but it was really less than a minute. I learned that this is like arguing with a police officer when getting pulled over. Just smile and apologize.
Messing Up
With the front two riders out of sight I didn't panic, but was eager to make up time. I began riding solo. (This is still the first lap folks!) At about 30 minutes in something didn't feel right. I was drinking plenty of water and had already ate an R Bar. I started throwing up. "What is going on!?" I thought to myself. I thought, ok, maybe it's just nerves and it's over. Just keep going. 5 minutes later again. Throwing up.
With plenty of water on board, I skipped the first pit stop. I didn't care that I was throwing up. I wanted to catch the two in front of me. My speed was good. My power was good. But water and food wasn't staying down. I began taking on gels that I had packed for the last hours. The temperature was around 94 degrees and I knew this wasn't good…. and it got worse.
After the second lap I pitted. Chris had  mussett bag full of bottles and food ready to hand up. I couldn't take it. I stopped, covered in vomit and said "I'm sick!". She quickly grabbed my empty bottles and replaced them. Tom was there and said, "Everybody is falling apart! Just keep going!!!" And frankly, if he didn't encourage me right then, I would have just quit.
Back out on the course the wind was picking up on the hill section and the temperature continued to rise to 97 degrees. I was riding, but not in any zone I had trained in. I felt cold. I still had 4 hours to go. I was still throwing up. I came in after the 3rd lap and took more bottles. I kept riding. Slower and feeling terrible because I wasn't able to fuel my body.
After the 4th lap, I pitted and said that was it. I got off the bike. Tom didn't want me to stop. "You are winning your age group! Just keep riding!" I couldn't, I needed a minute. My heart rate was near 180 bpm for the last two laps and I was doing below my endurance zone in watts. I sat down in a chair and Tom poured water on me. He gave me a coke and went in a shady tent and layed on the concrete. After 20 minutes I began to feel a little better. I said "fuck it" and got back on the bike. I didn't train for months and travel across the entire US to give up.
I got back on the bike and for 10 minutes I felt good. I was riding fast(ish) again. I thought, OK, I can do another 2 hours. I got this. Just keep turning the legs even if my power sucks. As I started the second half of the loop my legs cramped up. Not just like a calf cramp. I'm talking both legs, all muscles, quads, hamstrings, calves all cramped up and my knees wouldn't bend. It was excruciating. I stood and coasted for a few seconds and finally got them to relax enough to begin pedalling again.
This continued for the next 10 miles… until I got to the pit. That was it. My legs weren't working. Not at all. I know my body pretty well, and this was the limit.
Learning
Chris and I loaded my bike and all my gear and headed back to the resort where I ate some food and got in the cold outdoor pool. I had no idea what my result was and I really didn't care. I showed up, but I didn't compete at the level I know I could have. I was upset and Chris knew it. Tom has told me for years A+B=C where A is your A Game. B is things you can't control. C is the outcome. My B factor was the heat.
What did I learn? I learned several months of training had my body in peak form but the last month of training in Indiana was at 30-40 degrees. At 44 years old, my body can't acclimate to compete in a 60 degree temperature swing. I learned that several competitors had been in Borrego for a week in advance, training there to acclimate to the heat and low humidity. I learned my cold blood was so thick, it took my heart 180 bpm to pump it and after 4 hours it wasn't pumping to my extremities as my body tried to stay cool and protect my vital organs. I learned a lot.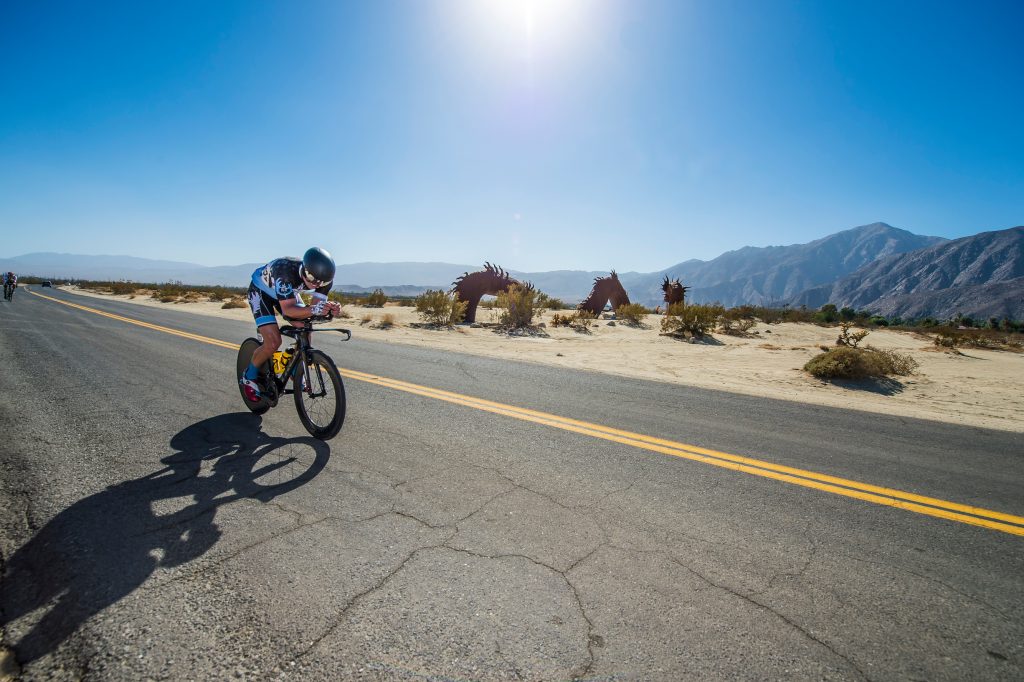 Getting Better.
As I said, back at the hotel Chris knew I was disappointed with my performance. She knew I was better than I rode. She started talking immediately about "next year we are coming out super early to train here!". I laughed and insisted this was a one and done! No way!!
As a few weeks have passed, I still haven't got back on the TT bike, but I have had some dreams of what I would do differently in 2019 out in the desert. Will I go back? It's gone from NO WAY to maybe.
Special Recognition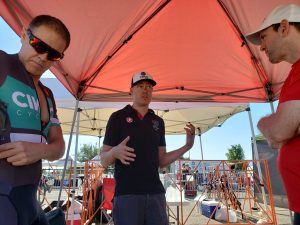 It would be a waste of time to write this blog post without thanking two people that are always in my corner. First my coach. Tom, you always push me to do more than I think I can on the bike. You continuously innovate and evolve your training methods and are a true motivator and great friend.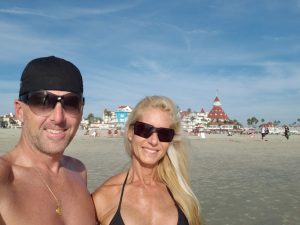 Most importantly my wife. Chris, you are the reason I wake up in the morning. You are my soulmate, the ultimate soigneur, my personal chef and make everything in my life easy with support that I've never experienced. I love you babe!