Brevard NC Spring Camp, Ride Report
Wow wow wow… Last week we held our second Spring Camp of 2022 for the RFCC. We headed to a Brevard North Carolina, new location for the club to explore. I can't say enough about how awesome the roads, views and routes were. Incredible.
Upon arrival on Tuesday afternoon, we wanted to check out the bikes and do a little spin. So, we went down the driveway and back up.
Now let me tell you about the driveway real quick… Our houses were located at the top of a gnarly climb that we called "the driveway". The driveway is a 2.4mi climb averaging 7.7%. It goes up 980 feet and has a max gradient of 48.6% at mile 2.1 right before our houses. THAT is the driveway. (Strava Segment)
Wednesday looked like rain all day. We punted the morning ride up Caesar's Head and waited it out a little bit with a few of the guys coming to camp late anyway. We decided to do our "coffee shop" loop to get some miles in. Nice roads and we stayed "mostly" dry. https://www.strava.com/activities/6835097912
That evening Mrs. Rollfast cooked us some amazing chicken wings from our partner Boone Farms.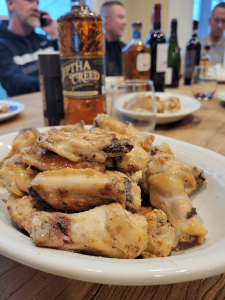 Thursday was an awesome route through Pisgah National Forest. We had great weather and started the ride off with a 12mile climb and then descended through numerous tunnels that were EPIC. I captured some great shots on my gopro as the light went to dark. https://www.strava.com/activities/6840475653/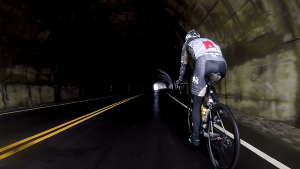 Friday we hit the biggest ride of the week. Devil's Courthouse. It started up the same long climb as Thursday, but then kicked again another 1200 feet up! We had some more tunnels and one of the best descents I've ever seen. It was fast, fun, twisty and "safe" with great pavement. A perfect descent for some of the guys that are still learning the art of going downhill. https://www.strava.com/activities/6844246234
Our last ride of the day was on Saturday up a climb called "Jump Off Rock". It was super windy and I think a few of us were tempted to jump after all the climbing this week! LOL https://www.strava.com/activities/6848890714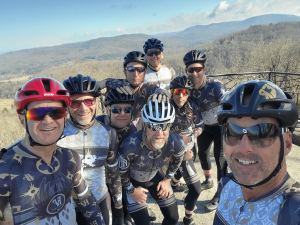 I can't get over how well this group of guys rode together. We had great leadership from veteran riders setting a pace that the newer guys could maintain. On the climbs and descents we made sure everybody was safe and finished together. Dinners and breakfasts were on point with our soigneur Mrs. Rollfast. She even provided some transportation for guys that were done with the Driveway!
Our last Spring Camp is coming up in April and will take place in Austin Texas. If you would like to attend a RFCC camp, you need to be a member, but that's the easy part. Log on at www.joinrollfast.com or check out the info below and decide.
We'd love to ride with you.
~Matt Tanner
PS – tons of photos and video at: https://rollfast.smugmug.com/2022/Brevard-North-Carolina-Spring-Camp/