Rollfast Launches New Brand
FOR IMMEDIATE RELEASE

January 2, 2023
Contact: MATT TANNER
info@rollfastcycling.com
CARMEL, IND. Rollfast updates look for 2023 with clean direct message
You'll see some new cycling kits around the Country in 2023. Rollfast has hung up the gold "Rollie Vuitton" design that was created in 2020 and opted for a very clean look that pays tribute to the clubs original colors.
I wanted to create something that was more approachable, yet still looks professional. Our club has many riders of different abilities and it's open to anybody that wants to join. So keeping it simple was important.

Matt Tanner, Rollfast Founder
The new kit will be produced by Hincapie Sportswear. Rollfast has a long history with the clothing company and the face of the brand. George Hincapie participated in the 2014 Rollfast Gran Fondo. Tanner has become close with George and his brother Rich Hincapie who runs the business.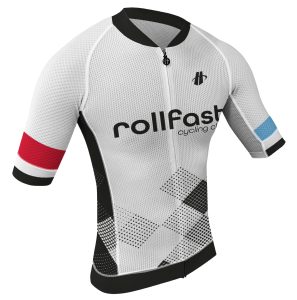 The Hincapie's are a great family. I love riding with George and he's taught me some of his secrets from riding in the Pro Peloton. Rich is a great business man and we have collaborated on strategies for promoting events especially during the pandemic.

Matt Tanner, Rollfast Founder
In addition to a new kit design, Rollfast is also launching a new website this month. The website is simplified and created to direct people three main areas; information about the club, events, and mental fitness resources.
About Rollfast
Rollfast, based in Carmel, Indiana, was founded in 2012. It is an inclusive cycling club and non profit promoting mental fitness and cycling advocacy.